Welcome Video
Please take a moment to view our welcome video. We appreciate how precious your time is, so we think this quick video will give you a good feel for who our practice is, what we do, how we can help you and why you should choose us for your dental needs. Enjoy!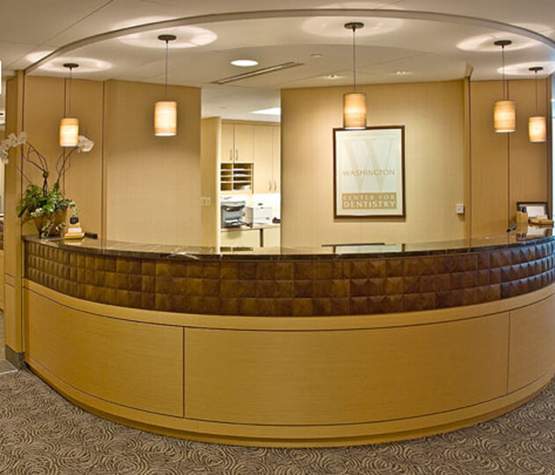 Tour Our Office
What makes The Washington Center for Dentistry stand apart from other dental offices? It's the sheer dedication we have to our patients in ensuring a never-before-seen level of care and service. At our practice, we're not only focused on the beauty and health of your mouth, but we're committed to the well-being of your entire body. When a patient comes into our office, we expect them to expect more because that's what we deliver on a daily basis—a level of exceptional care. We always go the extra mile and as a result, people across the entire Washington region and around the world choose us.
From our highly-advanced technology to our beautiful décor to the comfortable and serene atmosphere we have created, any patient will feel at ease from the beginning of a visit to when he or she leaves. Our facility provides only the best because that's what we believe our wonderful patients deserve. Whether you're in need of the most thorough hygiene visit of your life, a carefree drill-free filling or extensive restorative work, we can take care of all of your procedures on-site in safety and comfort. We invite you to see why the Washington Post says "This practice sets the bar." And we keep raising it—every day—for you!
Learn More
Our Reviews
Eman worked with me and she was amazingly vibrant and so customer oriented! Came for whitening, she far exceeded my expectations and I'll be...
All my life and I hated going to the dentist, but since I found Washington Center for Dentistry, I am much more at ease and I know they will...
Post-COVID-19, I've been dreading going to the dentist but finally broke down and made an appointment to get my teeth cleaned recently at Wa...
Post-COVID-19, I've been dreading going to the dentist but finally broke down and made an appointment to get my teeth cleaned recently at Wa...
I saw Dr. Deutsch because I was concerned that I was having a problem with my gums. Dr. Deutsch was very nice, informative, responsive and m...

Our Doctors
Our team of doctors are some of the most highly trained, highly sought-after and highly skilled in the field. Between Dr. Deutsch, Dr. Katsaros, Dr. Fordjour, and Dr. Matin, they have decades of experience and have transformed the mouths and lives of countless patients. Our dentists have been educated and trained at some of the most prestigious institutions around the world, giving them the insight and fortitude to not only practice dentistry, but enhance the field. Along the way, our doctors have collected numerous accolades, but most important of all, they have earned the respect of their fellow colleagues and grateful patients.